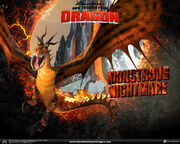 Fireworm
Fireworm is a monstrous nightmare. She is the "leader" of her group. She is one of the dragons in the "How to Train Your Dragon" series.
Mate: Bonekappep.
Son: Nighty Monstrous Nightmare.
Friend: Taco the chihuahua pug.
Colors: Red and white with black spots.
Armed with : Ability to ignite her own body into flames. 20
Defenses : Nightmares don't need defenses. 2
Radar : None. 0
Poison : Her bite is slightly poisonous. 3
Hunting Ability : Amazing to watch.10
Speed : Faster than most other dragons. 7
Fear and Fight Factor : Her appearance makes her extremely scary and intimidating, and her fighting skills are above average. 10

Other Interesting Facts:
Fireworm has the longest tail of any dragon in her group, at 20 feet in length.
Pages in category "Characters"